May House Cleaning Checklist
may house cleaning checklist
May house cleaning checklist: Some tasks only need to be done once or twice a year. The problem is that we forget to do them once or twice a year. Or else, we tend to save it all for spring cleaning, which makes spring cleaning such a daunting chore that it doesn't occur, either.
I've found the best plan is to break down annual and seasonal tasks by month and tackle them on a daily or weekly basis. 
Nothing gets too backed up, and things eventually get done. I've also found that concentrating on one room or area each month is more rewarding because you can see the results.
Here's the May house cleaning checklist that works best for me.
1.  Think alfresco house cleaning: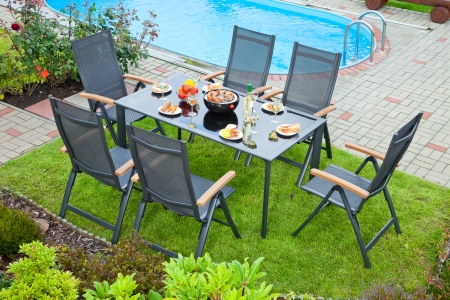 May house cleaning checklist: Clean patio furniture to get it ready for the outdoor entertaining days ahead.
2.  Step on it:
Clean doormats – or invest in new ones.
3.  Duct calls:
Clean air conditioning and heating ducts; change filters. Clean dryer ducts. 
4.  Monthly cleaning chill time:
If you have a window unit, make sure the air conditioner is debris-free. Dust or vacuum vents.
5.  Sunshine cleaning:
Clean the laundry room. And clean the washing machine while you're at, it by running an empty load on "hot" with a cup of chlorine bleach.
6.  Ducts redux:
Clean dryer ducts. Many home fires each year are caused by lint accumulating here. A dryer duct cleaning kit can help make this essential task easier. 

7.  No excuses:
8.  Power play:
Power wash the patio and deck. Seal the wood, if necessary.
9.  Taking sides:
Clean the exterior wall sidings of your home with a hose. Wash off cobwebs, dirt, etc.
For a thorough, safe exterior cleaning of vinyl, aluminum and wood siding, as well as brick stucco, concerte, trim and painted decks, Home Armor E-Z House Wash  is an easy and inexpensive (at under $24) option.
10.  Nitty gritty: Your final

May house cleaning checklist

 chore:
Mold or mildew on the walls? Scrub it off with a solution of diluted chlorine bleach, water, and laundry detergent.