september house cleaning checklist
Some tasks only need to be done once or twice a year. The problem is that we forget to do them once or twice a year. Or else, we tend to save it all for spring cleaning, which makes spring cleaning such a daunting chore that it doesn't occur, either.
I've found the best plan is to break down annual and seasonal tasks by month and tackle them on a daily or weekly basis. Nothing gets too backed up, and things eventually get done.
I've also found that concentrating on one room or area each month is more rewarding because you can see the results.  
Here's the September house cleaning checklist schedule that works best for me.
1.  Just ducty: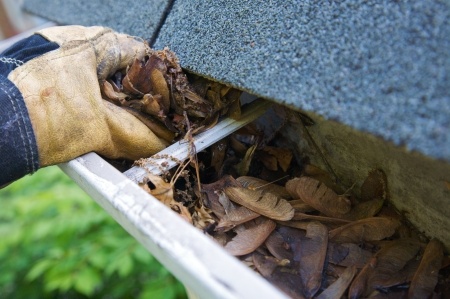 September house cleaning checklist: Clean your roof's gutters and downspouts this month.
Clean heat ducts and registers this month, as part of your September house cleaning checklist.
Don't forget to replace air filters as needed.

2.  An outside job:
Hire someone to clean your roof's gutters and downspouts, and to complete any other maintenance or repair chores you can't do yourself to get your home ready for winter.
3.  Moving inside:
Now is the time for fall patio furniture cleaning, and then to bring all outside furniture  inside and store it for the winter. Make sure your plants are ready for the change of seasons with these 10 fall gardening tips.
4.  Fire starter:
Order firewood. Stack it off the ground on
firewood racks
or on concrete blocks to increase air flow so that it dries appropriately.
Stack it away from the house to prevent pest infestation.
5.  And just in case things get out of hand...
Check your fire extinguisher. If needed, schedule a fire extinguisher service call. Review fire safety guidelines.
6.  Chim, chim, cheree...
Line up chimney sweep cleaning services now, before they're all booked till April. Do the rest of the fireplace maintenance yourself.
7.  Bedtime (again!)
Clean all bed linens, including comforters, duvets, bed skirts, pillows, etc. Yep, canopies, too!
8.  On the count of three:
Turn that mattress!
9.  Down the drain:
It's time for drain cleaning. Call a cleaning service now to set this up. Remind the crew to clean the traps, too. Make sure you're doing your part by regularly maintaining your garbage disposal.
10.  Clean house plants: your final

September house cleaning checklist

 chore.
Equip your child with an electrostatic cloth and give him the task of cleaning your houseplants. The leaves wipe clean just like magic. It's actually a gratifying job for grown-ups, too!