fall patio furniture cleaning tips
Fall patio furniture cleaning is essential if you want to ensure you'll have useable pieces to pull out of storage on those occasional warm winter days and nights ahead.
Removing a summer's worth of dirt and grime from patio furniture before you put it away for winter also has a second benefit - it will will be clean and ready to enjoy when you unwrap it next spring.
Here's the fall patio furniture cleaning routine that will keep your pieces looking good for the outdoor living season ahead.
1. fall patio cleaning tips for cushions.
Most patio chair cushions have synthetic covers and polyester fill and are designed to withstand the elements.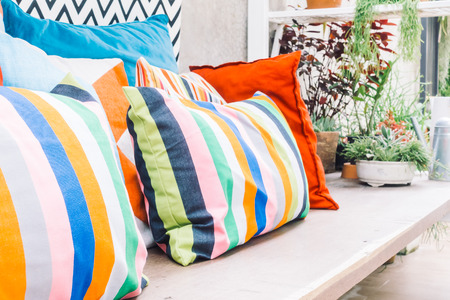 Patio furniture cushions need a good cleaning at the end of the season to help them last longer.
Still, they could use some help if you'd like them to last for the long term (or at least a few seasons.)
Use a spray enzyme cleaner on stubborn spots to remove them. Set the furniture cushions on their ends in the sun until completely dry.

If the cushions have mildew, place them on a flat cement surface and saturate with a solution of 1 cup bleach, 3 gallons of warm water, and 1/2 cup of laundry detergent.
Let the wet cushions sit in the sun for several hours. Rinse, then allow to dry in the sun for several days or until fully dried. Store clean, dry outdoor furniture cushions in plastic trash bags.
2. cleaning hammocks.
To clean a hammock, lay it flat and scrub with a solution of hand dish-washing detergent in warm water. Scrub stains and spots away with a nylon scrubber.
Rinse, turn over, and clean the other side. Rinse again. Hang to dry. Don't use bleach on your hammock - it will destroy the fibers.
When you bring it out next spring, spray it with a water repellent to minimize water retention, which can cause your hammock to suffer a premature demise. Cotton hammocks soak up water like a sponge.
3. cleaning patio umbrellas.
Begin cleaning a season's worth of dirt from a patio umbrella by taking it apart.

Start cleaning a patio umbrella by taking it apart.
Put the top part back into the stand so that it's within reach. Next, crank the umbrella open.
Wash the fabric with a liquid dish-washing detergent mixed with water and applied with a sponge.
If your umbrella is vinyl, use a cleaner made for convertible car tops. It works wonders on these sun-beaten skin-savers.
Dry the umbrella open in full sun for a day or two. Never put an umbrella away even slightly damp. That's a recipe for mildew.
4. fall patio furniture cleaning by surface.
Aluminum furniture: Wash with mild liquid detergent; rinse and dry. Coat with an automotive wax.
Resin furniture: Wash with a mild, soapy solution, rinse and towel dry. Avoid products with ammonia, but use a diluted bleach solution for stains. Polish resin with car wax if desired.
Teak furniture: Don't use teak oil on outdoor teak furniture because it will act as a dust magnet. Clean teak with a mild soap solution and a soft brush. Rinse well. Keep teak in the sun because dampness will cause mildew.

Wicker furniture: Wash synthetic wicker in soapy water, then rinse and dry it. You can polish it with a spray-on polish.
Wood outdoor furniture: Wash with a mild detergent and scrub brush. Store it indoors over winter if possible.
Wrought iron: Wash with soapy water; rinse and towel dry. Wax and polish it twice a year. Touch up any rust spots immediately. During the winter, either bring wrought iron indoors or cover it.
Visit the Clean Organized Home Store for the cleaning products and tools to get your patio furniture settled in for a long winter's nap.
---
---