5 tips for keeping holiday
greenery fresh
You want holiday greenery to be supple and fragrant. But you also want to recreate the picturesque times of Christmases past with your holiday decorations.
Unfortunately, Rudyard Kipling's words sum it up best here: "...never the twain shall meet." 
Don't despair. You can adjust your holiday fantasy to meet today's decorating reality - and still create a magical Christmas backdrop.
fantasy versus reality.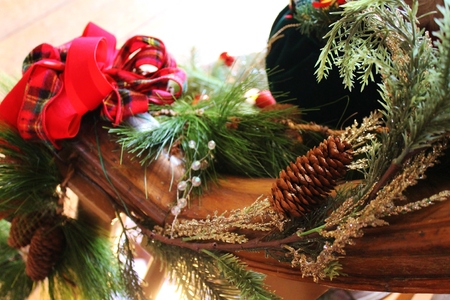 You can have the Christmas dream decor - so long as it is tmperered with an understanding of the reality imitations of indoor greenery.
Fantasy: Deck the halls with boughs of holly...

Reality: Anyone who has ever tried to deck anything with holly has discovered it can dry to a crisp indoors in a day or two if you don't stick its little boughs in floral foam.

Fantasy: A website or magazine photo showing a roaring holiday fire with lush, fresh lighted garland draped from the mantel.

Reality: That scene is the before picture. The magazine never shows the after picture with toasted garlands dripping with brown, dried-out needles.
  1

 choose greenery of pine, fir, and cedar for longer-lasting decor.
For indoor holiday decorations such as garland, swag, and Christmas wreaths, choose pine, fir, and cedar. These cuttings dry out more slowly than other greenery and may last several weeks if you keep them cool.
  2

 make sure greenery is fresh.
The best way to ensure holiday greenery is fresh is to cut it yourself. Look in your own backyard for fresh Christmas decorating ideas.
The advantage of using what comes from your yard: It's cheap, and the materials will be unique to your home.
If you buy your greenery, give the pine needles the old Christmas tree test: Bend them. If they are brown, or if they break, buy elsewhere.
  3

 how to make holiday greenery last.
  4

 holiday decorating do's.
  5

 holiday decorating don'ts.
Don't use greenery in

displays with candles.
Don't drape garlands

from a mantel if you plan to use the fireplace.
Finally, with any evergreen decoration, be sure to keep a broom handy. You'll need it.
---
---