Light Fixture cleaning tips

---
How to Remove Dirt, Dust, and Grime from contemporary lighting So You Can Actually Get All That Wattage You're Paying For.

It doesn't take long for dirt, dust and grime to find their way onto your light fixtures.

These soils are the most common blights you'll find on your contemporary lighting, dimming both your home's ambiance and your fixtures' ability to put out all the wattage you're paying for.
Cleaning chandeliers, wall sconces, and bathroom and kitchen fixtures needn't be a supercharged effort, however.
Whether your fixtures are wall sconces, chandeliers, ceiling fans, or wall fixtures, regular cleaning will keep them bright, attractive pieces of your home's decor.
1. Turn Off the Electricity.

It's a safety thing. Turn of the electricity to the fixture - or simply unplug it - before you dive into cleaning it. Don't risk the shock of coming in close proximity of a lit bulb with your hands.

2. Check for Frayed Wires and repair.

As you head up for your cleaning, check out the territory. If you notice any damage or frayed wires, fix these before you begin cleaning.

3. Cleaning starts with a simple dusting.

Wipe the exterior clean with a rag or dust cloth. You can do this whenever you do your regular house cleaning. Clean it each time you change the bulb.
You don't need to lather on abrasive cleaners to polish up your brass, chrome, steel, nickel or pewter fixtures. Harsh cleaners could mar the wax or sealer that keeps these surfaces looking their best.
Instead, gently rub the surface with a clean, damp cloth.

4. deep cleaning is a hands on affair.

You'll want to unscrew or otherwise remove the exterior of fixtures from the wall or ceiling for cleaning.
Hand wash the exterior glass and using a cloth dipped in water and hand dish-washing liquid.

While it may be tempting to pop a glass fixture into the top rack of the dishwasher for a thorough cleaning - resist this urge. The heat could break the delicate glass or cover, and fade exterior detailing.

And automatic dishwasher detergent can scratch or dull the decorative design and coating on some fixtures. Be safe and wash by hand.

Plastic recessed covers, commonly found in kitchen cabinet under-counter fixtures, can be cleaned in the sink.
Fill the sink with water, add a few squirts of hand dish-washing liquid and gently wash cloudy fixture covers.

5. Cleaning Hard to Reach fixtures.

For hard-to-reach fixtures, use a stepladder or an extended-reach dust and dirt removal too. Use a vacuum dust brush to keep these looking clean and grime-free.
---
more stories:

Clean Home
›
Coming Clean
› Light Fixture Cleaning
About the Author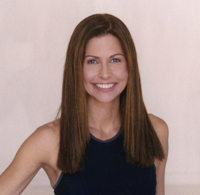 Tara Aronson is a native Californian. Having grown up in San Diego, she studied journalism and Spanish to pursue a career in newspaper writing. Tara, whose three children - Chris, Lyndsay, and Payne - are the light of her life, now lives and writes in Los Angeles. She also regularly appears on television news programs throughout the U.S.