About Tara Aronson:
Lifestyle Expert * Author * Mom.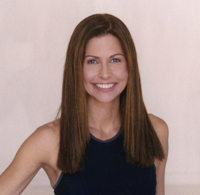 Tara is a mom of three, lifestyle expert, and the author of "Mrs. Clean Jeans' Housekeeping with Kids" (Rodale) and "Simplify Your Household" (Reader's Digest Publishing).

She is a frequent guest on morning news programs and national television, including The Rachel Ray Show and CNNfn. She appeared on the cover of Woman's World in June 2004.

Tara began writing for the San Francisco Chronicle's Home Section in 1995, specializing in cleaning tips, home design features and maintenance quick-fixes.
From this, her monthly "Coming Clean" and "Quick Fixes" columns were born. "Coming Clean" was among the Home Section's most popular columns. "Mrs. Clean Jeans' Housekeeping with Kids" quickly followed Tara's first book "Simplify Your Household".

Tara lives and writes in Los Angeles, California, and is always on the lookout for great new ways to simplify family living, and innovative new products and cleaning and organizing strategies to help make living easier.

Her goal is to have an organized, clean life at home - so she and her family can enjoy life outside of it together as often as possible.
---
About the Author


Tara Aronson is a native Californian. Having grown up in San Diego, she studied journalism and Spanish to pursue a career in newspaper writing. Tara, whose three children - Chris, Lyndsay, and Payne - are the light of her life, now lives and writes in Los Angeles. She also regularly appears on television news programs throughout the U.S.