House Cleaning Blog
The House Cleaning Blog keeps you up-to-date on the latest housekeeping, organizing, and decor posts to the Clean-Organized-Family-Home.com Website.
A hectic work life, busy family life, and active leisure life mean that there are more demands on your time and energy than ever before. The how-tos and quick tips In the House Cleaning Blog focus on straightforward, less-stress solutions for that well-run, trouble-free home we all dream of.
Jan 12, 2021
How to Declutter Your Home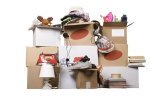 Declutter your home by pruning away the excess, stowing what's left in logical places, and resolving to keep future clutter in check..