A Pet Safe Halloween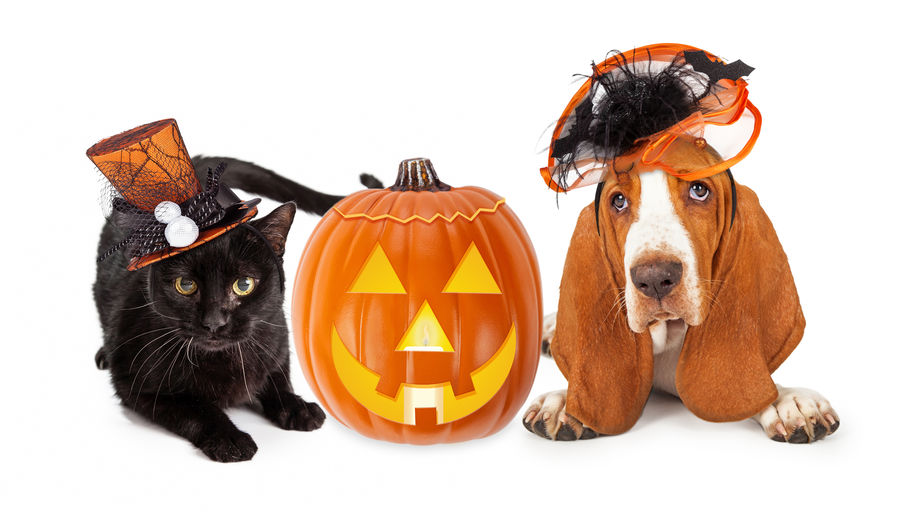 How to have a pet safe Halloween. All Hallow's Eve can be a fun-filled holiday for children and adults, but scary costumes, decorations, and treats can be frightening and even dangerous for dogs and cats. 
For a pet safe Halloween and to help pet owners avoid the real-life nightmare of a vet visit during the witching hour, the ASPCA® (The American Society for the Prevention of Cruelty to Animals®) offers guidelines for a pet safe Halloween.
Halloween Can be Filled with More Tricks than Treats for Pets

"Halloween can be filled with more dangerous tricks than treats for our pets," says Dr. Tina Wismer, medical director at the ASPCA's Animal Poison Control Center.

"While it might sound fun to involve your pets in the festivities, pet owners should know that not all traditions are safe or fun for dogs and cats."
For a pet safe Halloween, be mindful of the dangers that could spook or injure your pets and take the necessary steps to keep them out of harm's way."
Trick-or-Treating is for Kids
Trick-or-treating is for kids, not pets. During trick-or-treating hours it is best to keep pets in a room away from all the excitement at the front door. A constantly ringing doorbell and flurry of strangers in scary outfits can be frightening for pets. 
"Be sure that your pet has ID tags should he or she accidentally get loose," adds Gail Buchwald, senior vice president of the ASPCA Adoption Center. "Halloween brings a constant stream of visitors to the door, and pets can easily slip out unnoticed." 
Making sure your pet is always wearing a collar with ID tags and is micro-chipped can greatly increase the chances they will be returned home if lost.

Be careful with costumes. If you dress up your pet for Halloween, make sure the costume does not limit his movement, hearing, sight, or ability to breathe, bark, eat, drink or eliminate. Also, check the costume for choking hazards. A smart alternative to dressing your pet from head-to-paw? A simple, festive Halloween bandana.

No sweets! Several popular Halloween treats are toxic to pets, especially candies containing the artificial sweetener Xylitol, which can be poisonous to dogs. Even small amounts of Xylitol can cause a sudden drop in your dog's blood sugar, which may lead to a lack of coordination, seizures, and depression. "Chocolate, especially dark chocolate, can also be potentially poisonous to animals," advises Dr. Wismer. Symptoms of significant chocolate ingestion may include vomiting, diarrhea, hyperactivity, increased thirst and urination, heart rhythm abnormalities, and even seizures.
Beware of dangerous decorations. Re-think putting burning candles in Jack-o'-lanterns. Pets can easily knock these over and start a fire, and curious kittens are particularly at risk of getting burned by candle flames. Also, take care to prevent your pets from having access to wires and cords from holiday decorations. If chewed, a wire can damage your pet's mouth from shards of glass or plastic, or deliver a potentially lethal electrical shock. Pumpkins themselves are relatively non-toxic but could cause upset stomachs in pets that nibble on them.
Watch out for wrappers. Cats love to play with candy wrappers, but ingesting aluminum foil or cellophane can cause intestinal blockage and vomiting.



Preparing for a Pet Safe Halloween
If your dog or cat accidentally ingests any potentially harmful products and you need emergency advice, please consult your veterinarian or call the ASPCA's Animal Poison Control Center at (888) 426-4435 (a fee applies) or www.aspca.org/apcc. 
For more tips on a pet safe Halloween, visit ASPCA's Top 5 Tips For a Safe Howl-o-ween.