car chores for kids by age
Car chores for kids are a natural. They do help muck up the family ride, after all. So why shouldn't they help clean it? Here's a list of which tasks kids can generally do by which age to care for and clean the family car. 

Once a child reaches a certain skill or age level, he can generally do the car chores for kids in his age group and those for the age groups below.

Some of these chores need to be done each day, others once a week, and still others once a month or even less frequently. Use your best judgment for what gets done when. 
Car Chores for Kids Ages 2 and Under: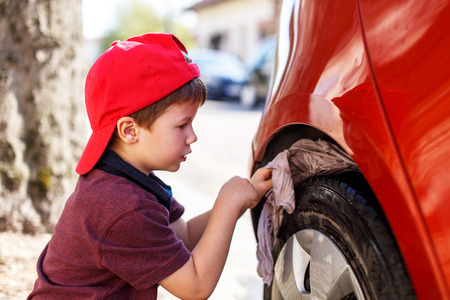 Kids can help with exterior and interior car cleaning with age-appropriate chores.
Ages 3 to 5:
The previous chore, plus:
T

ake his backpack inside.
Ages 6 to 9:
The previous chores, plus:
Ages 10 to 13:
The previous chores, plus:

Electronics patrol. Organize and return to cases all entertainment that's been separated from its cover: CDs, DVDs, etc.



Ages 14 to 17:
The previous chores, plus:
Share your Thoughts
Share your thoughts on the topic.