car chores for kids by age
Car chores for kids are a natural. They do help muck up the family ride, after all.

So why shouldn't they help clean it - as long as the chores are age appropriate?
Getting kids to help with cleaning isn't easy, especially in the beginning. Besides, how much help can you realistically expect from a child?
The answer depends on the child's age. Below I've listed examples of the chores that kids can generally do by certain ages.
Once a child reaches a certain skill or age level, he can generally do the car chores for kids in his age group and those for the age groups below.
Car Chores for Kids Ages 2 and Under: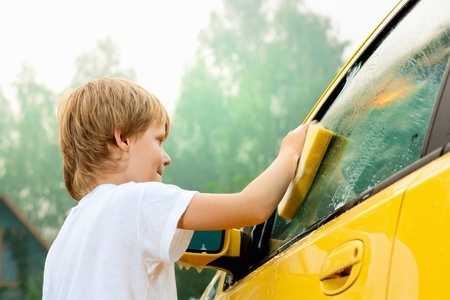 Kids can help with the exterior and interior cleaning of the family car and other age-appropriate chores.
Chores for Kids Ages 3 to 5:
The previous chore, plus:
Chores for Kids Ages 6 to 9:
The previous chores, plus:
Chores for Kids Ages 10 to 13:
The previous chores, plus:

Electronics patrol. Organize and return to cases all entertainment that's been separated from its cover: CDs, DVDs, etc.



Chores for Kids Ages 14 to 17:
The previous chores, plus:
---
---