11 Tips for hosting overnight guests
We all love houseguests, but the holidays can be a tricky time to have them underfoot. You're busy and the house is in an uproar. 

This year, as your holiday gift to everyone, you are going to arrange it so that holiday entertaining and hosting visitors will feel one day too short!
The key is to make family and friends feel like honored guests and a part of your family - all at the same time. 
Here are a 11 tips for hosting overnight guests designed to help everyone feel welcome and at home in your home.
  1  Plan in Advance When Hosting Overnight Guests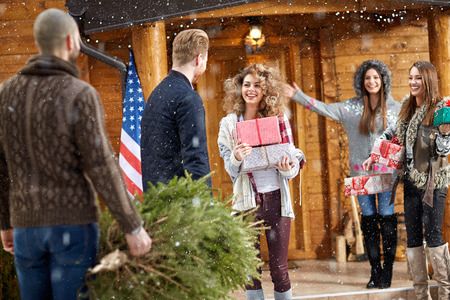 Pretend like they're guests in your luxury hotel and figure out ways to make their stay memorable.
You probably only see your family or old friends a couple times a year.
A gracious host looks at - and plans for - every aspect of the holiday visit in advance. 
Pretend like they're guests in your luxury hotel and figure out ways to make their stay as 5-star memorable as your budget allows.
Many guest bedroom amenities can be had for very little, but go a long way toward making a stay in your home comfortable and memorable.
  2  When Hosting Overnight Guests, Provide Privacy
If you don't have a spare bedroom, kick one of the kids out of his or her room for the visit. (You can make it up to him later.) Overnight guests need a quiet refuge - especially older people who aren't used to being around rambunctious youngsters.
If that setup - or a spare bedroom - simply isn't in the (house) cards, get tips for guests staying in common areas here.
  3 Provide Overnight Guests with a Cozy, Comfy Place to Relax and Unwind
When hosting overnight guests, think about the big and little luxuries that make for a comfortable stay anywhere.
Things like a basket of fruit set bedside; a small well-chosen selection of books or magazines; and a comfy chair near a reading light are some inexpensive ways to achieve that retreat-like ambience. The goal here is to provide your guests with a cozy and comfy place to retreat to, relax and unwind.
  4  Give the Guest Bathroom the Spa Treatment
Turn your guest bathroom into a holiday spa for your overnighting guests.
Deck out the bath with a
luxurious bathtub caddy tray
that provides a place for a cell phone, reading materials, and even a beverage. Finish the spa-like ambiance with a
spa essentials bath set
like this $35 set from Earth & Sea Spa Essentials.
  5   Keep Entertaining Plans Light
Don't plan every minute of your overnight guests' visit, but do have some ideas to present to them upon their arrival. 
Sit down with them on the first day and discuss the days ahead and your family's daily schedule.
When does everyone usually get up? Go to bed? When do you run errands? Go shopping? They'll want to know as this will just help them get oriented and comfortable quicker.
They can pick and choose the things they would like to do with you, and when they want to go their own way.
  6  Define "Dining" in Your Home 
When is breakfast? Is lunch a do-it-yourself affair? Give them some dinner choices. Find out what foods they like, and those they can't or won't eat given their current dietary considerations. As you know, things do change with the passage of time..
.Ask about food allergies, dislikes, or dietary restrictions.  Buy snacks that your overnight guest can help themselves to between meals. Cook ahead so you can spend quality time with your guests.
  7  Talk Transportation
Would your overnighting family or friends like to tool about town by themselves? Can you lend them one of your cars?
If not, announce your availability as a chauffeur for any errands they may need to run.
And don't insist on providing "things" they need to pick up at the store. ("Oh, you don't need to go to the store, Dad! I have aspirin!")
Sometimes they just want to get out of the house and poke around. Volunteer the item, but realize they may just want to go to the store. Being a guest without a car can be very confining.
  8  Consider Fun Extras in Addition to the Guest Room Essentials
You could provide a 'turn-down' service at night as a fun little extra. Simply sneak away after dinner alone or with the kids and turn down the guests' bed and lay a special chocolate on their pillows.
Plan to replace guest towels daily. Get the kids to kick in their services as the bellhops (though tips could be required). 
  9  Accept Help - Sensitively
If your mother-in-law asks if she can 'help', she may just be being polite. Offer her an easy task such as arranging flowers and see how enthusiastically she attacks the chore.
But if she just goes through the motions, let her off the hook.
But if she offers a specific duty - such as 'May I help set the table?' or 'May I make cookies?' the offer is probably sincere. Of course, you can ask your own mom to do anything.
  10  Limit Other Guests
Your family and friends came to see you, not your next-door neighbors. Keep the entertaining focus on them.
  11  Keep Your Overnight Guests Informed
Knowledge is power. Make a list of any planned activities for your overnight guests. Also give them brochures on activities in your area, and a list of restaurants. Ask them to look the information over and let you know what they'd like to do during their stay. 
And while you're at it, jot down your family's daily routine. What time do you usually get up for breakfast? Is it a serve yourself affair? When is lunch and dinner? When do the kids usually nap? Do you go on afternoon walks? Why time do you usually go to bed?
Make it clear they can adopt any routine they like, but at least they know what the rest of the family is up to. There's nothing worse than sitting in your guest room and wondering what the day holds in store for you. You want a guest, not a prisoner. 
Follow these tips for hosting overnight guests and who knows? Your family or friends may never want to leave. (Just kidding!) But chances are a very good time will be had by all.

Shop for the Holidays
---
---