Tips for hosting overnight guests
Wonderful! Your family or friends are finally coming!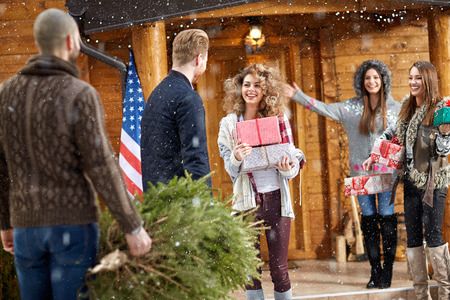 Pretend your visitors are guests in your luxury hotel and figure out ways to make their stay memorable.
You want everything to be perfect so they will come again. What can you do to make them feel at home in your home?
The key is to make family and friends feel like honored guests and a part of your family - all at the same time. 
Sharing some information with your guests - both before and when they arrive - will go a long way toward making them comfortable in your home.
These tips for hosting overnight guests are designed to help ensure everyone enjoys the visit.
Advance Planning for Hosting Overnight Guests
Before your guests arrive, tell them about any activities you've planned for their visit.
Also, send them brochures on activities in your area and a list of restaurants. Ask them to look the information over and let you know what they'd like to do during their stay.
Don't plan every minute of your guests' visit, but do have some ideas in addition to their choices, to present to them upon their arrival. 

The Guest Briefing
Sit down with your guests on the first day and discuss the days ahead and your family's daily routine.
What time do you usually get up for breakfast? Is it a serve-yourself affair? When is lunch and dinner? When do the kids usually take a nap? Do you go on afternoon walks? What time do you usually go to bed?

Make it clear that your guests can adopt any routine they like, but at least they'll know what the rest of the family is up to.
There's nothing worse for a guest than sitting in your room wondering what the day holds in store for you. You want them to feel like guests, not prisoners.
Once your guests arrive, you'll also want to give them the Royal Tour.
If you don't want to be waiting on them hand and foot, you'd better show them where everything is. Show your guests:
How to use the coffeemaker.
Where the coffee and breakfast foods are kept.
Where bowls, cups, glasses,and plates are stored.
Where you hide the napkins and silverware.
How to use the microwave.
How to use the remote for the TV.
Talk Transportation
Finally, give guests their freedom! Give them a key to the house so they can go for a walk and get back inside.
Would your overnighting guests like to tool about town by themselves? Can you lend them one of your cars?
If not, announce your availability as a chauffeur for any errands they may need to run.
And don't insist on providing "things" they need to pick up at the store. ("Oh, you don't need to go to the store, Dad! I have aspirin!")
Sometimes they just want to get out of the house and poke around. Volunteer the item, but realize they may just want to go to the store. Being a guest without a car can be very confining.
Limit Other Guests
Your family and friends came to see you, not your next-door neighbors. Keep the entertaining focus on them during the visit.
Follow these tips for hosting overnight guests and who knows? Your family or friends may never want to leave. (Just kidding!) But chances are a very good a good time will be had by all.

---
---