7 holiday cleaning tips
Ohmygosh. You just scraped the rest of the jack o'lantern off the front porch step, and it's already time to plan the Thanksgiving menu. 
Then you'll be thrust into full holiday madness. What's a temporally-challenged host to do?
OK. Take some deep breaths and lets get our holiday housecleaning organized.
You've got six weeks to get your act together. 
holiday cleaning for party people.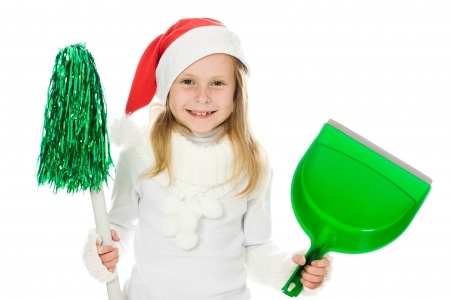 Don't wait until the guests RSVP to begin your holiday cleaning.
Here are some of the holiday cleaning tasks you can do ahead so you can be cool, calm, and collected when you open the door on entertaining night.

1. silver prep.
Get out the silver utensils, serving dishes and candlesticks and give them a good buffing and polishing.
2. clean china and crystal.
Save time by popping the holiday china and crystal in the dishwasher several days or weeks before the big event. Then you don't have to worry about spots and dust when you're setting the table.
Did I say "dishwasher"? I sure did. Most of today's china and crystal are dishwasher safe - as long as you load carefully so that pieces don't clank against each other.
If you have any reservations about whether a treasured piece is dishwasher-safe, test wash one piece before filling the racks with the entire set. Hand-wash heirloom china and crystal and pieces trimmed in gold or silver.
3. freshen table linens.
Launder or dry clean holiday table linens and decorations.
Inspect, clean, and iron your festive tablecloths, runners, napkins, and placemats.
4. think flower arrangements.
Plan or order the centerpiece for your dining room table as well as other floral arrangements.
Here's one idea for a do-it-yourself centerpiece: Drape leftover Halloween pumpkins with autumn leaves and spray paint the whole thing gold for a very simple, elegant centerpiece.
5. clear a coat closet.
Make room for your guests outerwear by clearing out as much as you can from the coat closet. Place a coat rack for over-coats and wraps; position a wicker basket nearby where guests can shake-off rain- or snow-drizzled umbrellas, gloves, and the like.
By creating places to place guests' items as the walk in your door, you'll be able to quickly stash the items safely - without taking time away from your guests.
6. clean the fireplace.
Clean the hearth, fireplace screen or door and tools. Have wood and matches or fireplace lighter at the ready so no precious planning time will be lost setting the mood.
7. traffic planning.
Your regular floor plan may not accommodate a host of people. Rearrange furniture so to create intimate conversation areas as well as good traffic flow. Set up the bar in the living room or den to keep people out of the kitchen.
Check out the Clean Organized Home Store for the cleaning products and tools you'll need for a sparkling holiday home.
---
---