car cleaning with kids
Prevention is a large part of the cure when it comes to car cleaning.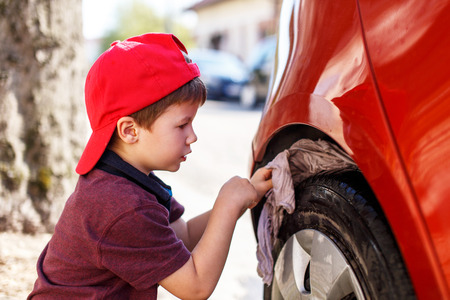 Kids can help with family car cleaning when given age appropriate chores.
And preventing as much of the family dirt and debris from accumulating is really half the battle. 

Here are a few prevention tips to consider to help make car cleaning with kids quicker and easier:

Leather seats. If you're lucky enough to be car shopping, choose leather seats over upholstery. They wipe up more easily. Clean leather upholstery with a special cleaner/conditioner to keep it looking good and to help it last longer. Always wipe up the excess.
If your seats are upholstered, cover them with waterproof seat covers, especially the seat that's home to your toddler or the dog. 
If you don't have floor mats, get them.

To keep the car tidy, empty it of shoes, backpacks, papers - everything - after each outing. This includes emptying the trash. During the summer months, a single missed dumping can lead to some pretty rancid smells.
Car Chores for Kids by Age
Here's a list of car cleaning chores kids can generally do by age:

Ages 2 and under:

Ages 3 to 5:

Ages 6 to 9:
Ages 10 to 13:
Wipe off the car's dashboard and upholstery
Ages 14 to 17:
Share Your Ideas and Thoughts on the Topic Here:
---
---