tips for cleaning floors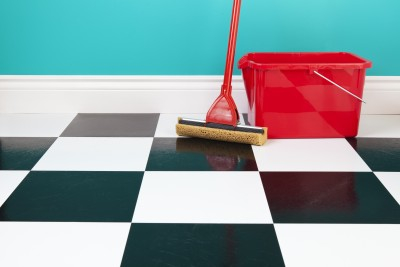 Damp mop linoleum kitchen floors daily.
Keeping today's fabulous flooring - linoleum, vinyl, hardwood, laminate, stone, and tile - sparkling like new requires a special cleaning regimen.
Using the right cleaners for the job is critical in keeping specialty surfaces shining safely.
But which cleaning method is right for your floors?

Consult the list below for the most effective strategies for cleaning floors by surface type.
Cleaning Linoleum Floors
Keeping linoleum clean requires little more than regular damp-mopping (use very little water, which can make the surface brittle), or dry dust-mopping to rid the surface of grit and dust before it gets ground in.

Each week, deep-clean with a neutral-pH cleaner, such as a little dishwashing detergent dissolved in lukewarm water.
To keep floors shiny and lustrous, eat year apply a wax such as a carnauba wax to seal and protect the surface.

Areas that get heavy use should be stripped and rewaxed as needed. 

A few don'ts for cleaning floors of linoleum: hot water, strong soaps, solvents, or anything abrasive.

Cleaning Vinyl Floors
Vinyl floors require only regular sweeping and damp-mopping with water for general cleaning. But for those dirty jobs, a cleaner with a surfactant will provide more uniform cleaning and drying.
For regular cleanings, a water-based, neutral cleaner, such as Spic and Span pine cleaner is sufficient.

In general, stay away from anything soapy, such as mop-and-shine products. They can leave a soapy, tacky residue that attracts dirt. Instead, use ammonia and water.

Other vinyl don'ts: detergents, abrasive cleaners, paste wax, and highly abrasive scrubbing tools.

Hardwood Floors
Hardwood floors are a tough challenge in high-traffic kitchens. Still, whether yours are oak, maple, ash, or beech, cleaning them is as safe and straightforward as it gets.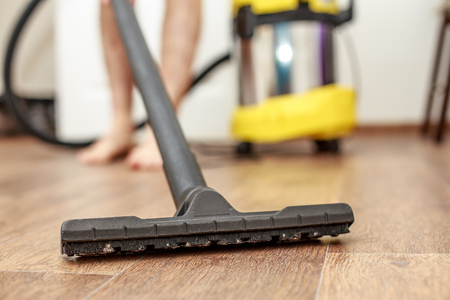 Vacuum hardwood floors frequently to keep dirt from getting ground in to the surface.
For hardwood floors in the kitchen, wiping up spills promptly is key because standing water can damage a hardwood floor's finish.
The only other major consideration - and this goes for any room in the house with hardwood floors - is to try to keep the floor clear of dirt, sand, and grit, which can act like sandpaper and scratch a floor's finish.
Once-a-week cleaning with a broom, vacuum or dust mop is all most floors require.
If your floors get a lot of use, and if they don't have a urethane finish, dam-mop once a week with a neutral-pH wood-cleaning product. Wring the mop almost dry before mopping.

The Dirt on Laminates
Keep laminate floors luxurious by regularly vacuuming, dust-mopping, or wiping them with a damp (not wet) cloth.
When the dirt and grime get tough, as they so often do in the kitchen, those who don't mind a bit of scrubbing will find that a solution of vinegar and water works well for general cleaning.

To remove tough spots or stains, buff the blemish with acetone nail-polish remover, and then wipe it clean with a damp cloth.
No-nos include allowing water or a cleaning solution to stand on or below the surface of your floor, using soap-based detergents or mop-and-shine products (they'll leave a dull film on your floor), wax, polish, abrasive cleaners, steel wool, or scouring pads that will scratch the surface of your floor. 
Cleaning Stone
Wipe down natural stone floors daily. Even with modern sealers on the market today, stone floors are vulnerable to staining from water and oil-based liquids.
Daily wipe-downs may seem cumbersome, but if you're prepared for the job with a water-only mop hanging in a nearby closet, it takes just minutes for a shine that lasts the whole day. 

Cleaning Tile Floors
Tile presents a tough cleaning dilemma: How do you get it clean without marring the shiny surface? Start with a cleaning routine designed to keep grime from building up and prevent the need for big-gun cleaners.
Regularly vacuum and damp-mop, and clean up spills as they happen. For deeper general cleaning, use a neutral-pH cleaner without surfactants (which can leave a residue on tile floors), such as Armstrong Once 'n Done, for intense grease-cutting action. Make sure your cleaner has a built-in reinforcing sealer.
---
---