tips for cleaning floors
Keeping today's fabulous flooring - linoleum, vinyl, hardwood, laminate, stone, and tile - sparkling like new requires a special cleaning regiment.
Using the right cleaners for the job is key in keeping specialty surfaces shining safely. But which product is right for your flooring?
These tips for cleaning floors can help you decide which products and tools to use for your specific type of flooring to keep it clean and looking its best.
Clean Floors: Linoleum Tile
Cleaning floors of  linoleum requires little more than regular damp-mopping (use very little water, which can make the surface brittle) or dry dust-mopping to rid of surface grit and dust before it's ground in. Here is the best way to clean linoleum: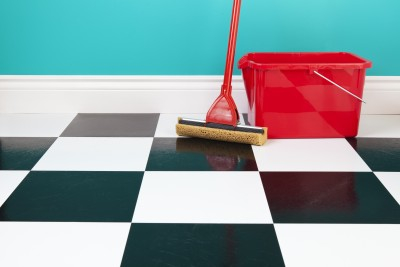 Damp mop linoleum floors daily.
Sweep or vacuum regularly.
Damp-mop with cool water and a mild dishwashing detergent daily. Apply a capful of baby oil to the mop water to keep no-wax floors shiny. (To save time, I sometimes pour the solution into spray bottle, squirt just the areas that need cleaning, and then damp mop.)
If the floor is really dirty, deep clean with a neutral pH cleaner, such as a little dishwashing detergent dissolved in lukewarm water. 
Keep water away from seams and edges to prevent loosening.
Allow the floor to air dry before walking on it.
Cleaning Vinyl Floors
Cleaning floors mostly entails sweeping or vacuuming dirt out of the surface crevices on vinyl floors daily.
Since these tiny particles can quickly become ground in, vacuum your floor regularly rather than sweeping it with a broom. Here's how to wash vinyl floors:
Ward off dirt with welcome mats at the door. Don't use rubber or latex-backed mats on vinyl flooring because it can stain vinyl.
Vacuum regularly. Don't use a beater bar.
Mop occasionally with a no-rinse floor cleaning product. Sometimes, you may need to use a stripper and cleaner.
Clean up spills immediately.  
If the floor starts looking dull, polish it with a product recommended by the manufacturer. Inexpensive PVC vinyl floors might need a few coats of polish to help prevent scratches. 
Never use abrasive scrubbers or abrasive cleaners,

detergents, mop-and-shine products, paste wax, or solvents on your vinyl floor.
Don't use rolling casters, but do use floor protectors under heavy furniture to prevent indentations.
If a seam opens, call a professional. Don't try to mend it yourself.
Cleaning Wood Floors
Whether your hardwood floors are oak, maple, ash or beech, cleaning them is about as safe and simple as it gets:
Put welcome mats at doors to catch the dirt before you track it in. Better yet, make the house a no-shoe zone. High heels exert up to 8,000 pounds of pressure per square inch on floors. (Not to mention what they do to the female foot.)
Protect flooring in heavy traffic areas with area rugs.
Put glides on chairs, and coasters or felt under all furniture that sits directly on hardwood floors. Otherwise, the furniture could scratch or dent the wood. Put rubber cups or an area rug under heavy furniture such as pianos.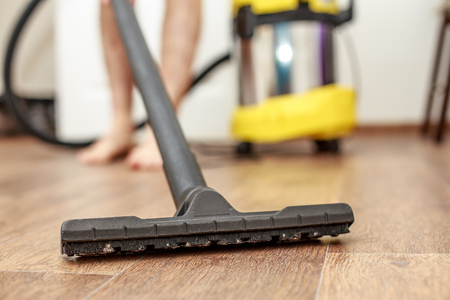 Vacuum hardwood floors frequently to keep dirt from getting ground in to the surface.
Vacuum or sweep frequently. Use a soft brush attachment on your vacuum. Grinding in dirt and grime will ruin a finish fast.
How do you mop hardwood floors? You don't. Even though the wood is sealed, you still don't want to put water on it. And if you spill anything on it, mop it up immediately with a paper towel or clean cloth.
Choose and use products wisely. Use only the products recommended by the manufacturer. Oil or wax-based products or ammonia cleansers could damage the factory shine on urethane  finishes.
Avoid sunlight, which can change the color of the flooring. (Cherry gets darker for instance.) Close your shades or drapes during the day when you are not in the room. Also, move furniture and area rugs around occasionally to avoid uneven coloration.
Cleaning Floors: The Dirt on Laminates
The care tips for laminate floors are very similar to those for wood floors:

Use door mats at entryways to stop dirt and grit outside.
Use welcome mats. Grit is a laminate floor's worst enemy.
Use furniture casters. These floors also scratch.
Vacuum often, using the soft brush attachment on the vacuum.
How to shine laminate? You don't. Do not polish, wax, or use steel wool or abrasive cleaners. 
Cleaning Stone Floors
Even with the modern sealers on the market today, stone floors are vulnerable to staining from water and oil-based liquids. Be sure to wipe stone floors clean daily. Care tips include:
Sweep daily. Remove dirt before it gets ground in. If you have a textured stone floor, vacuuming works better than sweeping.
Immediately after sweeping, damp-mop the floor, using a clean mop that has not been exposed to strong cleaners.
Wash your stone floors regularly with what the manufacturer suggests. But rinse twice, so soil residues from rinse water don't dull surfaces. Squeegee away water to avoid water spots. Never use vinegar, which can strip the shine.
If your floor has a polished surface, finish with paste wax. Skip this step if your stones are unfinished.
Clean up spills immediately.
How to Clean Tile Floors
Here's how to care for and clean kitchen tiles:
Vacuum and/or sweep regularly.
Avoid abrasive powders that can scratch  tile.
Avoid ammonia-based cleaning products. They may discolor the grout.
Clean with a nylon scrub sponge using a nonabrasive cleanser and water, then rinse. 
Never use wax or a sealant.
Clean grout by scrubbing with detergent, and then apply a diluted solution of chlorine bleach and let it sit for five minutes. Then wash again and rinse.
Wipe up spills immediately.
Shop Products & Tools for Cleaning Kitchen Floors
Share Your Ideas and Thoughts on the Topic Here:
---
---