Easy Kitchen decorating ideas
Amid the congestion of the fridge and the stove, table and chairs, and hardworking countertops, kitchens usually have little leftover space for decorative touches.
Still, you can add character to this functional room by using the treasures you probably already have in your home.
These decorating ideas can help make your kitchen more beautiful, cozier - and perhaps even more functional.
Decorating Ideas for a Cozier Kitchen
Design ideas for a homey touch: arrange cooking utensils in a decorative ceramic vase rather than a practical plastic holder.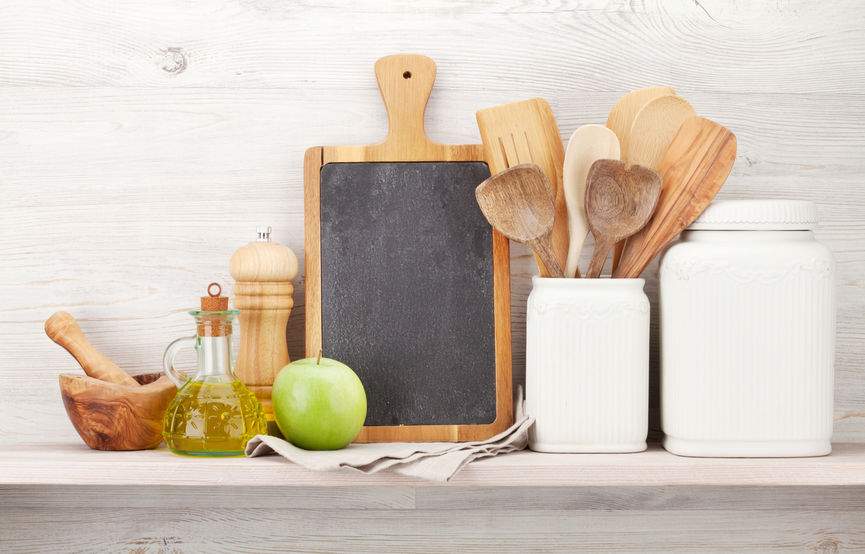 Corrall frequently used items - such as cooking utensils - in decorative containers.
Stash the sponge and scrubber in a small painted pot instead of leaving them strewn haphazardly on the countertop. 

Hang bright dish towels from the refrigerator or oven handle to add a splash of color to the kitchen.

Such little home decorating pick-me-ups can pack a big design punch. Freshen up the kitchen by placing baskets, bowls, or other decorative containers on a windowsill or countertop near the sink, or atop your breakfast table or the fridge.
Fill them with seasonal accents: gourds in autumn, chestnuts in winter, bright lemons in spring, limes in summer. 

Of course, fresh flowers can perk up the kitchen any time of year. Even a bird feeder outside the window lends life and color.
Design Ideas For a Plain Kitchen
Is your kitchen on the dull side? These design ideas can help:
For a quick fix, replace your humdrum cabinet and drawer handles with
chrome or brass hardware
or colorful plastic fittings.
Paint or stain the cabinets, or the entire room, in a bold new color. It's the quickest and cheapest home decorating fix for any bland room - including the kitchen.
And should you decide you don't like it, you can easily change the color later. 
And speaking of home decorating quick changes, does your kitchen table seem to take over the room? These design ideas can help.

You should optimally have at least 3 feet (1m) of passageway between the table and the adjacent walls or appliances. If your table is too large, replace it with a smaller one.

What you'll lose in the serving area you will gain in mealtime intimacy.

Home Decorating: Creating Wonderful Windows
Window coverings are a quick way to alter the look and feel of any room. 
Window coverings with a splash of color can add vibrancy to your kitchen.
There are so many styles from which to choose - horizontal and vertical blinds, draperies, shades, sheers, shutters, and wood blinds. 

Each offers a distinctive look - and price range. Miniblinds are generally the least expensive.
They're an excellent choice for the kitchen as they're easy to wipe free of dirt and grime and won't be damaged by heat or humidity.

In general, simple is best. If you're looking for fabric draperies, plan to shop around, and compare prices and design advice before you sign on the dotted line.
If possible, select a company that offers guaranteed in-home measuring - this will keep you from making any costly mistakes.

Most shops will provide an in-house decorating consultant to help you find the perfect fabric and style, but the advice - and the prices for the window coverings - will vary from store to store.
---
---