garbage disposal maintenance TIps
Yes, you do actually have to maintain your garbage disposal.
If you want it to keep grinding away daily, that is. Garbage disposal repair isn't cheap.
So keeping it running smoothly is worth a little drain cleaning effort occasionally. At the very least, just know what not to put in the sink disposal.
Here are 5 garbage disposal maintenance tips to keep this essential appliance grinding away smoothly.
garbage disposal care and maintenance.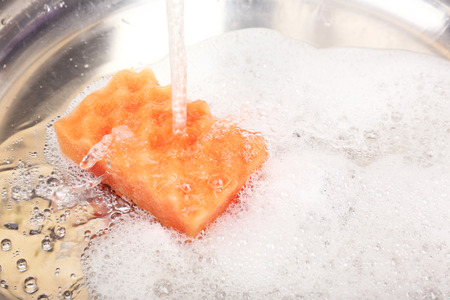 Regular maintenance is essential to keep your garbage disposal grinding away daily.
what not to put in your garbage disposal.
No large bones.

Small bones are OK.
Nothing stringy.

I don't put in artichokes, banana peels, or cornhusks. I do grind celery and asparagus, but only a little at a time. Meat (especially raw meat) can also get stringy and wrap around the mechanism.
tips for deodorizing your garbage disposal.
Everyone has her favorite methods of deodorizing the disposal.
Many people simply grind leftover lemons and limes for a fresh citrusy smell. Others grind lemons with ice cubes. Still others freeze white vinegar in ice cubes and grind those up. 
The one thing that I have found that works to deodorize the disposal is to sprinkle in baking soda regularly. Other ways to keep the disposal in good running condition:
I've been using the bleach method for nearly 10 years now, and haven't yet had to replace my disposal - nor has any smell lingered after using the bleach-and-water rinse.
---
---