how to create a kitchen recycling center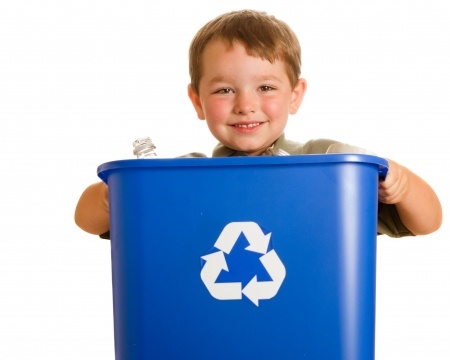 Make kids a part of your home recycling program.
You've got items for recycling - especially in the kitchen.
Why not create your own recycling center here?
A pull out trash can under the sink is a great place to stash your recycling containers out of sight - but still in the thick of things so you don't forget to put it outside with the trash containers on pick up day.
get the kids to help create a kitchen recycling center
If space is tight, consider keeping plastic storage bins or recycling containers for recycling cans, glass, plastic and paper in the garage, where items can be unloaded and stored until pick up day.

Let the kids do this. They'll love it. They'll even like taking it out to the garage. Really. And while you're at it, start a composting pail or compost bin (with a tight-fitting lid) with non-meat table scraps.
All those leftovers that go down the garbage disposal can instead enjoy a second life in your backyard garden in just a few short months. It's the ultimate recycling that gives back - you can use the composted material to feed and grow your backyard garden.
Yes, composting usually requires worms - they're great at speeding up the compost cooking process. But if worms make you squeamish, you can compost without worms. Get started making compost happen in your home here. Prefer the wormless approach? Here's how to get started.
Visit the Clean Organized Home Store for the supplies and products you need to start and maintain a kitchen recycling center.
---
More Stories
Related Pages
---
---
About the Author


Tara Aronson is a native Californian. Having grown up in San Diego, she studied journalism and Spanish to pursue a career in newspaper writing. Tara, whose three children - Chris, Lyndsay, and Payne - are the light of her life, now lives and writes in Los Angeles. She also regularly appears on television news programs throughout the U.S.