yearly kids chores by age
Kids age 6 and above can wash inside and outside of cabinets.
Which yearly kids chores can kids help out with, given his or her age?
Your family's annual household chores list is sure to be very different from my family's list. 
Your list will differ depending on so many factors, such as how many kids you have and how old they are, the layout of your home, whether or not you have pets, where you live, and how much (or how little) your family is home, and how meticulous you and the family intend to be with your housekeeping routine. 
To give you a guide to create your own yearly kids chore list, I'll offer you mine. I've listed appropriate house chore by age below. Remember, the age recommendations are just that, recommendations. Your tidy 11-year-old who has been cleaning his room since age 2 can probably tackle some of the kids chores listed for teenagers if safety isn't an issue.
Conversely, if you've been the maid for your 13-year-old since she was born, you might start her off with the simpler chores for younger children. Once a child reaches a certain skill or age level, he can generally do the chores for his age group and those for the age groups below.
yearly kids chores for ages 3 to 5:
Wash or spot-clean baseboards
Air-tumble throw pillows in the dryer 
household chores for ages 6 to 9:
Previous chores, plus:
Wash inside and outside of cabinets

household chores for ages 10 to 13:
Previous chores, plus:
chores for teenagers aged 14 to 17:
Previous chores, plus:

Deep-clean carpet and upholstery (teens can make the call to the carpet cleaner for you)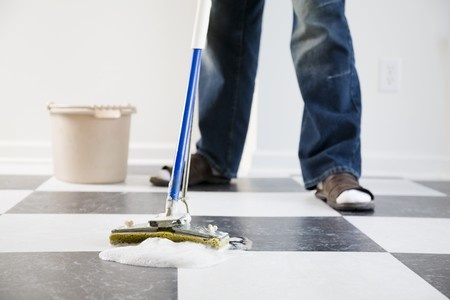 Teens aged 14 to 17 can scrub or strip and wax floors.
Dust and vacuum corners and crevices from high point to low
Vacuum floors and carpets and move furniture to clean underneath
Remove dust ruffles from beds to wash or dry clean
Get a room-by-room guide to age appropriate chores for kids here.
Visit the Clean Organized Home Store for the products and tools you need for safe and thorough annual cleanings.
---
More Stories
Related Pages
---
---
About the Author


Tara Aronson is a native Californian. Having grown up in San Diego, she studied journalism and Spanish to pursue a career in newspaper writing. Tara, whose three children - Chris, Lyndsay, and Payne - are the light of her life, now lives and writes in Los Angeles. She also regularly appears on television news programs throughout the U.S.