Bathroom Chores For Kids By Age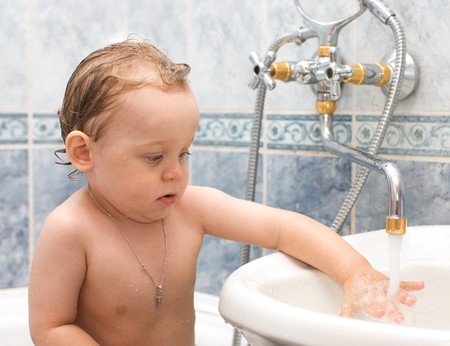 Kids age 2 and up can help rinse out the tub after baths.
Bathroom chores for kids. The bathroom is one of the dirtiest and most-used rooms in the house. And it's the least fun to clean. 
The good news is, kids are able to do many, many of the chores the chores this busy room requires to help out.

Here's a list of bathroom chores kids can generally do by age to keep this busy place clean and sanitary. They do help muck it up, after all.

Once a child reaches a certain skill or age level, he can generally do the chores for his age group and those for the age groups below.
Of course, some of these bathroom chores for kids need to be done each day, others once a week, and still others less frequently. Use your best judgment for what gets done when. 
Bathroom Chores for Kids Ages 2 and Under:
Put the toilet seat down and flush.
Put dirty clothes in the hamper if the top is low enough.
Put tub toys in bins or drawers.
Ages 3 to 5:
Previous bathroom chores, plus:
Put tub toys in the proper nets or bins
Rinse out the sink after use
Ages 6 to 9:
Previous bathroom chores, plus:

Hang up towel (on towel rack)
Sweep or vacuum floor and damp-mop any spills
Wipe smudges from walls and door
Empty and wipe wastebasket clean, using disinfecting wipes
Wash inside and outside of cabinets
Ages 10 to 13:
Previous bathroom chores, plus:
Wipe chrome fixtures and mirrors clean
Disinfect light switches and doorknobs

Chores for Teens:
Previous chores, plus:
Disinfect the sink and drain