guest bathroom ideas
If there is any way to give your guests their own bathroom, do it. No one likes sharing bathrooms with people outside the immediate family.
Yeah, you love Uncle Fred, but do you really want to negotiate around his shaving supplies?
Finally, make sure the door locks. If it doesn't, add a hook-and-eye closure so that your guest will know that your 3-year-old won't be walking in on her.
These guest bathroom ideas can help you thoughtfully get started.
Guest Bathroom Ideas for Comfort and Coziness
Stock the guest bath with: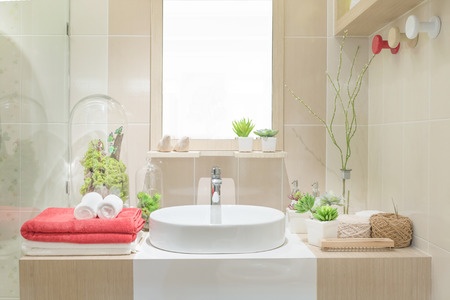 Nothing quite says "welcome" like a luxurious guest bath thoughtfully stocked with all the basics - and a few luxurious extras.
The all-important trash can
Guest Bathroom Ideas for Convenient Cleanliness and Luxury
Finally, always stash a tub of disposable disinfecting wipes in the bathroom so you can sneak in and clean up when visitors arrive unexpectedly or for a quick touch up during the weekend visit.
Consider these luxuries too, if you can: A
bathroom friendly newspaper and magazine rack;
a
luxurious non-slip bath pillow;
fresh flowers or houseplant (nothing says "welcome" quite as elegantly. And if you really want to go all-out, a
a pretty (and unbreakable) bathtub tray
stocked with trial-size bubbles, lotions, shampoos and soaps will do the trick nicely.
Guest Bathroom No-Nos
No-nos here include adding anything scented. What smells fresh and clean to you may gag your visitors. And some people are allergic to certain fragrances. (Really.)
The best scent is no scent, and that includes air freshener sprays, drawer liners, and candles.
By providing your overnight visitor with everything they may have forgotten at the last minute, you'll help ensure their stay in your home is a comfortable, stress-free one.
---
---