car first aid kit essentials
We all know we need a first-aid kit at home when we have kids.

But do you carry one in the car?

Since we spend so much time on the road with rambunctious kids, being prepared for minor overzealousness and medical mishaps is essential.
(Not to mention the need for aspirin to treat the occasional headache caused by a long drive with said loud, active kids.)
Below you'll find the car first aid kit items to include for both big and little bumps and collisions on the road ahead.
Car First Aid Kit Essentials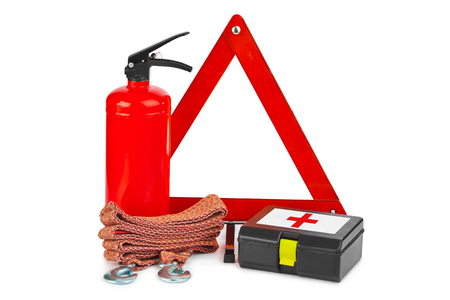 A car first aid kit is an onboard essential.
So what goes inside your car first aid kit and how should you package your emergency kit?
Use whatever you have handy, such as an art supply box or a simple tackle box, to stash and store these essentials:
Emergency contact list (Just in case your babysitter is driving when an accident occurs. Include mobile numbers for you and your spouse, as well as names and numbers for the doctor, the orthodontist, and even the veterinarian if you bring the dog along for outings.
Prescription medications (Store what you or your kids might need if you get stuck unexpectedly, inc

luding inhalers for your little athletic asthmatic, in childproof containers);

Emergency Items to Include
This is the stuff everyone needs in case you have a car problem or accident, whether kids are on board or not. Keep these emergency kit essentials in the glove compartment.
Auto membership club information and phone numbers;
Insurance cards and information;
Finally, complete your car first aid kit by storing a "Send Help" sign nearby. Just pray that you or your designated driver never need it. If you remember to charge your cell phone, you probably won't.
---
---