assigning kids chores by age
Getting kids to help with cleaning isn't easy, especially in the beginning. Besides, how much help can you realistically expect from a child? The answer depends on the child's age.
Below are examples of kids chores that can generally be completed by certain ages.
Your child may be capable of doing a task sooner or later, depending on her level of concentration, fine-motor skills, or maturity. 
Once a child reaches a certain skill or age level, he can generally do the chores for his age group and those for the age groups below.

Be There the First Time Your Child Tackles a New Task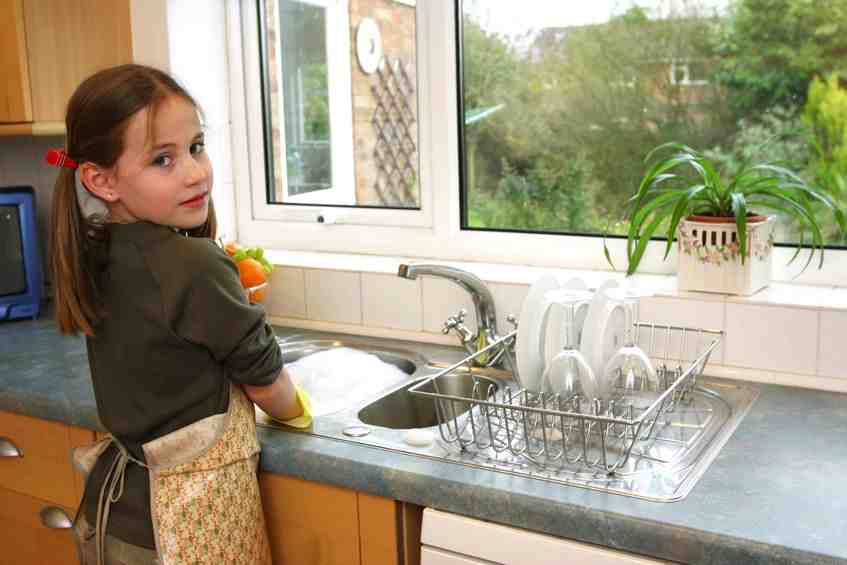 How much help can you realistically expect from a child? The answer depends on her age.
However, you'll want to there the first time your child tackles a new task, regardless of age.
Beginners need pointers for even the simplest jobs, such as washing dinner dishes by hand. What's second nature to us is a new experience for them. 
For example, you have to explain which dishes should be washed first and why, and you need to show them how to stack the freshly washed items in the dryer rack so that it doesn't go crashing to the floor.
Divvying Kids Chores
How many chores can kids do? I've found a good rule of thumb for determining the number of kids chores is his or her age, divided by two and rounded up when needed.
This number remains static regardless of the number of chores that need to be tackled in a given week. The number of chores may be small, but some chores need to be done each day.
Using this system, an 8-year-old with six siblings would have the same number of chores as any only child. The point is not just to get the work done; the point is to teach your child responsibility and to get some work done. 
After all, if you have only one child, it hardly seems fair to saddle her with the entire home's chores. If chores are to be successful, they must be both fun and fair. And your supervision and enforcement must be consistent. 
Chores for Kids Ages 2 and Under:
Chores for Kids Ages 3 to 5:
Help unload the dishwasher
Chores for Kids Ages 6 to 9:
Put dishes in the dishwasher
Chores for Kids Ages 10 to 13:
Chores for Kids Ages 14 to 17:
---
---