house chores for kids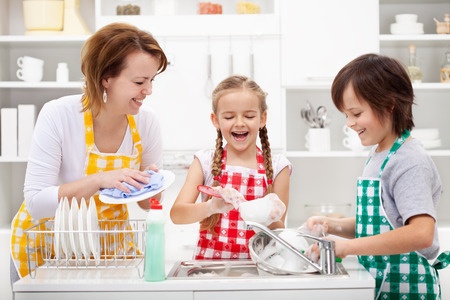 Age appropriate chores help teach kids essential life skills.
The house chores for kids by age below are organized by frequency (daily, weekly, monthly, seasonally) and by room (virtually every room in your home.)
Within each category, I've listed appropriate chores for each age group. The age recommendations are just that - recommendations. Your tidy 11-year-old who has been cleaning his room since age 2 can probably tackle some of the chores listed for teenagers if safety isn't an issue.
Once a child reaches a certain age or skill level, he can generally do the chores for his age group and those for the age groups below.

---
house chores for kids by age & frequency
Getting kids to help with cleaning isn't easy, especially in the beginning. Besides, how much help can you realistically expect from a child? The answer depends on the child's age. Below I've listed examples of chores that kids can generally do by certain ages.
You'll want to be there the first time your child tackles new house chores, regardless of age. Beginners need pointers for even the simplest jobs, such as washing dinner dishes by hand. What's second nature to us is a new experience for them. 
---
---
house chores for kids by age & room
---
---
---
---
---
About the Author


Tara Aronson is a native Californian. Having grown up in San Diego, she studied journalism and Spanish to pursue a career in newspaper writing. Tara, whose three children - Chris, Lyndsay, and Payne - are the light of her life, now lives and writes in Los Angeles. She also regularly appears on television news programs throughout the U.S.