kids home safety tips 
Children have a way of finding hazards in the bathroom, living room, and kitchen you might never have suspected were there.  
The bathroom and kitchen, with their sharp objects tucked in drawers or chemicals stashed in cabinets, require extra steps to ensure child safety.
And the living room could benefit from a few well-chosen home safety products to eliminate major hazards to little ones.
These kids home safety tips can help get every room in your home safe for the big and little bodies inside.
bathroom safety tips.
With water everywhere, the chance for slips, falls, and scalds is heightened in this small space. Here's how to eliminate the dangers:
Pad the tub faucet to prevent burns and bruises.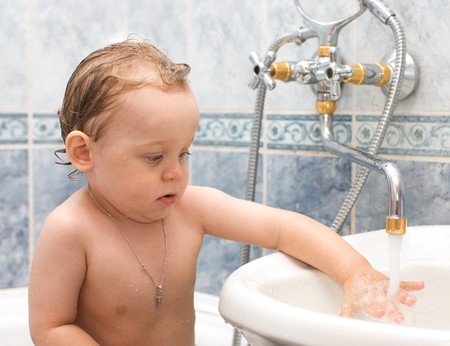 Pad the tub faucet to prevent burns and bruises.
Place non-slip stickers or appliques in the tub.
Lock your medicine cabinet. 

Put child safety locks on lower cabinets.
Request child resistant tops for prescription medicines.
Keep razors well out of reach of curious hands.
kids safety tips for the bedroom.
Keep beds and chairs away from window blinds and drapery cords.
Remove breakable knickknacks.
how to create a kid friendly living room.
As every parent knows, most living areas aren't set up for kids under the age of three. Here are a few tips for childproofing your living areas:
Pad sharp edges on furniture and raised fireplace hearths.
Place nonskid backing on area rugs.
Secure bookcases to the wall.
Remove rickety furniture. 
kitchen safety tips for kids.
The kitchen is the room where everyone congregates, and, consequently, it's a place where accidents can happen.
It's all the activities that go on here - cooking, cleaning, preparing food and more - that require an elevated level of home safety for kids.
Turn pot handles toward the back of the stove top.
Keep knives and other sharp objects out of children's reach.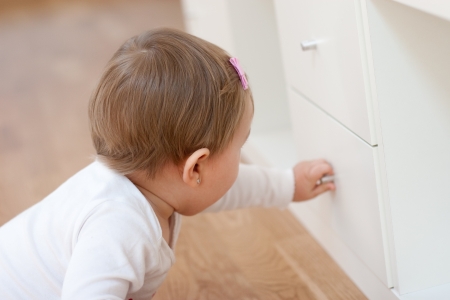 Install safety latches on drawers and cabinets to keep curious little hands from opening them.
Store plastic bags high and out of sight and reach of curious little hands.
Install latches on kitchen cabinets.

Latch the refrigerator door.
Remove small refrigerator magnets (they're a choking hazard.)
Lock up trash containers.
Store cleaning supplies in locked cabinets or out of reach.
child safety throughout the house. 
Install window guards (except on one window in each bedroom).
Keep stairways clear; install gates at top and bottom.
Keep furniture away from windows.
Enclose the fireplace with glass doors.

Cover electrical outlets with plastic plugs designed for the purpose.
Keep wires, lamps, and lighting fixtures out of reach.
Use sandwich bag ties or rubber bands to hold hanging cords out of reach. 
Make plants inaccessible to babies. 
Install sheets of rigid, clear plastic along stairway rails if they stand more than 4 inches (10cm) apart.
Put decals on glass doors.
Install knob covers on interior doors.
---
---