7 party planning ideas for families
Let's face it: Most family parties are boring for kids. No clowns. No balloons. They just don't get what we enjoy about catching up with one another over a glass of wine and nibbling smelly shrimp and cheese.
Yet, given the right mindset, kids and adults can enjoy the festivities together. You just need to set the stage for a successful gathering.
Here are 7 party planning ideas to make your family party festive and safe for all ages.
  1.  Party Planning Essential: Remind the Kids to Be on their Best Party Behavior
Remind your children that parties are social events and we must use proper behavior. No running. No loud voices. No roughhousing. Pretend that you are a prince or princess for the evening. And no whining allowed. Period.
  2. Think Damage Control
Before party night, put breakables on higher shelves.
Before party night, put breakables on higher shelves. Anything that can be bumped off or into and broken will be during party time.
Move delicate possessions to higher ground until the pint-size stampede is over.
  3.  Plan Ahead for Fire Safety
When little ones are part of the festivities, plan to keep things safe by anticipating curious little fingers.
For safety's sake, opt out of lighted candles in bathrooms - or anywhere little hands can reach them. Be sure to place fireplace lighters atop the mantel, not alongside the firewood in easy reach.
  4.  Protect the Pooch
Put all pets away for the evening. Yeah, they're cute, but dogs and cats get nippy when mauled by 2-year-olds. More fragile animals, like hamsters or birds, could be injured.
You also lessen the risk of someone accidentally letting the pets escape if you put them in a safe place during the party.
  5.  Create a Party Kid Zone
Set aside a study or den as a play area. Equip it with a few toys, videos, computer games, coloring books, and crayons.
The kids don't have to stay there - that would be unsociable. But at least you've provided a kid-friendly environment where they can amuse themselves. 
Be sure to provide a separate teens-only space away from the little kids to make grumpy teens smile.
If you can find a babysitter for the event, hire one. Your neighborhood high schooler could probably entertain the mini-masses nicely for a few hours - at a bargain rate.
It's well worth your investment. It might even save your carpet.

  6.  Plan Party Food for Various Palates
Make a few kid-friendly foods.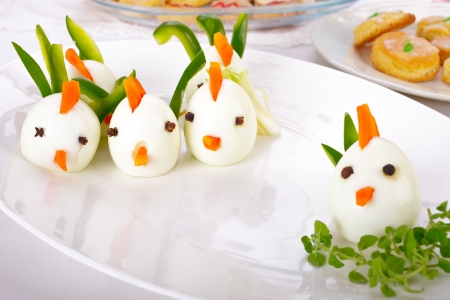 If you're having a dinner party, a good bet for the kids would be grilled chicken or burgers, stovetop mac and cheese, or cheese pizza.
Make some special drinks for the kids, like lemonade or milkshakes, or buy some "kid champagne" (a.k.a. sparkling cider).
Make sure they have a kids' table where they can reach their special snacks. This way, they won't be dripping dip all over the adult fare.
  7.  Plan Party Gifts for Kids
One way of keeping the kids happy is to give them each a little gift. It amuses them for a while, and their parents will love you.
---
---