school mornings:
10 Tips for Taming the Madness
School starts any day now. Is your family prepared? No more sleeping late. No more casual breakfasts. The summer morning routine is about to get a dramatic wake up call.
The chaos is about to begin!
Transitions are often difficult, and the dramatic morning routine schedule change between the lazy days of summer to early-rising school mornings ranks up there at the top.

These 10 tips for warding off the madness of school mornings can help ensure everyone gets out the door on time.
1.   Ease into  School Mornings by Sending Kids to Bed Early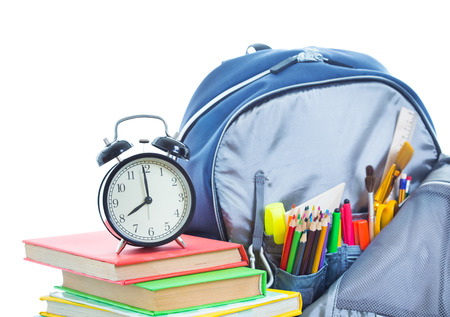 To take the madness out of school mornings, do as much of the preparation as possible the night before.
Ease into the morning routine school schedule by sending the kids to bed early for at least a week before school starts. 
2.   Plan Showers and Baths for the Night Before
Have the kids shower the night before. Assign everyone 15 minutes to complete their morning routine in the bathroom to avoid gridlock.
3.   Make Mornings Easier with No-Choice Breakfasts
Make mornings easier by having no-choice breakfasts. If it's Monday, we're having cereal.
If it's Tuesday, we're having yogurt. There's no time in the morning routine for short order cooks on school days.
4.   Plan School Outfits in Advance
Plan outfits the night before - especially if your kids don't wear school uniforms. Lay out school clothes, including shoes, socks, and hair bands
Make sure there are no rips or tears and that everything (including gym clothes and soccer jerseys) is clean.
For my little one, I package each day's outfit (underwear and all) in a big resealable plastic bag. His morning routine consists of pulling out the bag and get dressed.
5.   Sundays are Key to Your Week
Sundays are key to your week. Dole out lunch money, etc. on Sunday nights. Work out carpools Sunday night.
To plan more efficiently, make a family calendar listing everyone's activities in one spot. No one can commit to anything before they check the calendar and clear it with the chauffeur (mom).
6.   Make To-Go Lists for Each Family Member
The mornings go by so fast, it's easy for kids to forget important things for school. I create Out-the-Door Checklists and go through them each morning.
They may change from day to day depending on your kids' schedules. I type one up on the computer for each day of the week, then amend them when activities change. 
7.   Do As Much as Possible the Night Before
Pack lunches and backpacks the night before.
Get the children to assemble everything they need the night before: pack up backpacks and station them near the door, assemble lunches, stuff for after-school activities (swimsuits, cleats, etc.).
If there's a lot of stuff, you can even load the car the night before.
With the kids' help, of course.
8.   Create An In-Out Box for Papers, Permission Slips
Create an in/out box for papers, permission slips. Lunch money could go here, too.

9.   Always Keep Your Keys on a Hook by the Door
Always keep your keys on a hook by the door. Too many buses have been missed because of frantic last-minute key searches.
10.   Consider Investing in a Second Set of Schoolbooks
Consider investing in a second set of schoolbooks. I know this sounds expensive - but it really helps.
My friend's daughter wound up at the doctor's office with back strain from her heavy backpack - and she was only in the fourth grade.
Just buy extra copies of texts at the beginning of the year and keep one set at home and one at school. No more heavy backpacks.
No more forgotten books! And no more excuses for not doing homework.
---
---