15 guest bedroom ideas
Wonderful! Your friends or family are finally coming for a visit. You want everything to be perfect so they will come again. What can you do to make sure they feel at home in your home?
The most precious thing you can give your guest is privacy. It's so awkward to be a guest - you feel on display and you have no control over your situation.
These guest bedroom ideas can help ensure your guests feel cozy and welcome in your home.
  1.  Welcome Guests with a Freshly-Made Bed
A day or two before your guests arrive, prepare the bed with freshly cleaned sheets.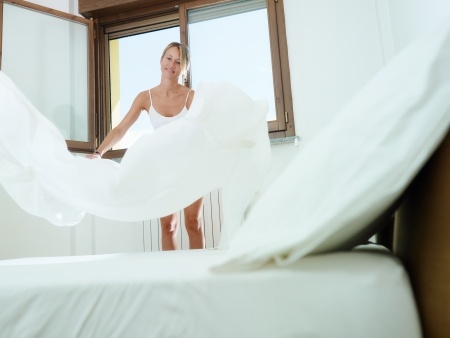 A freshly made bed is arguably the best non-verbal welcome you can give your guest.
Even if you made the guest bed with freshly cleaned sheets last month, take the time to rewash and replace the bedding.
After a few weeks, even clean sheets can start to smell musty.
Consider using only a fitted sheet topped by a comforter, especially if your guest has limited use of his or her hands (such as arthritis causes).
The comforter or duvet (removable, washable comforter cover) replaces the bedspread and top sheet. As an added guest bonus it's a cinch to make - just fluff and go.
  2.  Plump Up the Pillow Offerings
Foam or down? Ask your guests if they have a preference in advance.
  3.  Provide Extra Blankets
On my father's occasional overnight visits, I got into the habit of putting a couple of extra blankets in the guest room closet. He never again asked me whether I had the heat "hooked up."
  4.  Declutter a Couple Dresser Drawers So Guests Can Unpack
Clear out a couple of drawers so your guest can unpack and get rid of their suitcases.

  5.  Provide a Bedside Table and Light
Make sure the table is close to the bed so your gust can read before drifting off. A good rule of thumb: The base of the shade should be at least shoulder level while sitting up in bed.
No bedside table handy? A spare chair will do in a pinch. Just set a light on it, and she can hang her necklaces or robe on the back.
  6.  Provide Plenty of Tissues
Allergies, colds, airplanes, climate changes; whatever the cause, make sure you have a solution in excess: plenty of boxes of tissues.

  7.  Provide a Water Carafe
Travel is a thirsty business, so be sure to provide your guests with a
bedside water carafe
.
This can be one of this fancy carafes with a glass that fits on top or simply an individual-size water bottle. Just be sure you have a glass or two bedside handy as well.
  8.  Clear Closet Space So Guests Can Hang Up Clothes
Make room for your guests to hang stuff. Filled to the brim? Relocate some stuff for the weekend or week so that your guests can have things the way they like them.
Stock the closet with hangers - the plastic ones you see at home stores are a great option. Thin wire hangers from the dry cleaners crease pants and dresses and simply aren't adequate.
  9.  Clear Stuff in the Rest of the Room So Guests Can Spread Out
Clear floors and shelves of your stuff to make room for theirs.
  10.  Don't Forget to Discreetly Include a Trash Can
This is basic, sure, but it's too often overlooked. No one likes others to see their personal trash. (And while you're at it, make sure there's a trash can in the bathroom your guests will use.)
  11.  Add a Chair or Two
A comfy place to sit invites relaxing. And that's what the visit is all about, right?
  12.  Go for a Complete Blackout
Install window treatments that provide privacy and light control for quality (and quantity!) sleep.
I have one relative at whose home I seldom stay nights because I can never sleep past dawn. The sheer floral curtains allow the sunrise into the room long before I would if I had my druthers.
  13.  Provide Guests with a Set of House Keys
Have a few extra sets made in advance, and code them by having each set printed in a different color. Add car keys to the sets of those who might be driving while visiting. Keep a computer or written record of who has what color key set, and mark off when the sets are returned.
  14.  Share Home Security Details with Your Guests
Have a burglar alarm? Tell your overnight guest about when it is on and when it is off and how she can tell on her own. Provide written instructions if she will be turning the security system on and off, and if there is a gate code or other security measures she'll need to know about in your home or neighborhood.
  15.  Provide a Night Light
A small light is essential for guests because they're not accustomed to the layout of the room or your house. It's helpful to put in a few plug-in nightlight, such as en route to the bathroom, but you could also give your guests flashlights. 
Finally, clear a corner spot to plop luggage down in case your guest is the type who actually likes living out of a suitcase instead of enjoying all your cozy preparations. At least you tried, right?
When guests are coming is a great time to nurture the kids' natural tendency to please. Have them help ready your home for guests, too. Your son can choose flowers from the garden for you to place in a bedside vase. Your daughter can create "welcome to our home" cards to leave on the dresser.
And a few days before visitors arrive, go grocery shopping with the kids for the feeding frenzy ahead. And let them choose the chocolates you'll place on the guest's pillow.
---
---