yearly kids chores by age
Which annual chores can kids help out with, given his or her age? Your family's annual household chores list is sure to be very different from my family's list.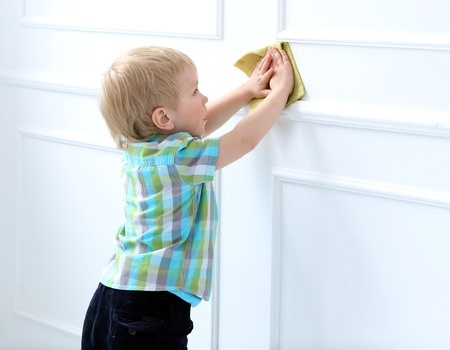 Kids age 3 to 5 can spot clean walls and baseboards.
Your list will differ depending on so many factors, such as how many kids you have and how old they are, the layout of your home, whether or not you have pets, where you live, and how much (or how little) your family is home. 

But to give you a guide to create your own chore list, I'd like to offer you mine.
Below I've listed yearly kids chores for each age group. (Remember, the age recommendations are just that, recommendations.)
Once a child reaches a certain skill or age level, he can generally do the chores for his age group and those for the age groups below.
Yearly Kids Chores for Ages 3 to 5:
Chores for Kids Ages 6 to 9:
Previous chores, plus:
Chores for Kids Ages 10 to 13:
Previous chores, plus:

Chores for Kids Ages 14 to 17:
Previous chores, plus:

Remove dust ruffles from beds to wash or dry clean.
---
---