A Party Friendly Patio

Do you have a party friendly patio? Since most families practically live outside during the warmer months, the patio or deck becomes an outdoor room where kids play and parents hang out.
Since we're out there so much, we'll need to organize our seasonal "room" to make it as livable as possible. 

Think about what you do on your patio or deck. Then arrange the furniture so that you can do it more quickly and efficiently. For a party friendly patio, you need one area for eating and entertaining and a separate area for the kids. Let's get to it!
The Adult Entertainment Area of A Party Friendly Patio
This part of a party friendly patio is a breeze. All you need are a table and some comfy chairs.

Sink-in-and-stay-a-spell kind of comfortable chairs will make your modest investment pay off big time. Choose comfy cushions that can be swapped out as styles - or your tastes - change. Top it all off with an umbrella for shade, and your parlor is open for business
Optional furniture includes a storage chest for adult toys and stuff you always need outside - such as sunscreen, hats, and bug spray - and folding tables by the grill for serving and cooking.
No lawn? No problem. Liven up the look of your exterior hangout spot by adding planter boxes filled with hearty grasses and flowering perennials.
A Party Friendly Patio: The Kids' Deck Zone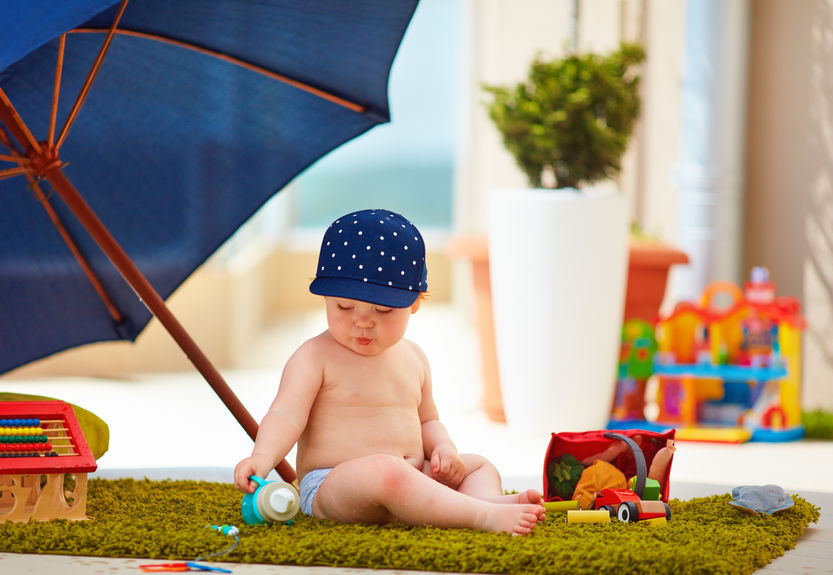 A party friendly patio will also have a kids play place or deck zone. For safety's sake, set up the kids' deck zone away from the grill and the dining table. You might even want to make the kids their own little outdoor room delineated by container plants. 
Keep favorite toys in a wheeled container or a wagon so kids can roll them outside to play. Or consider a deck storage chest for them to use as a toy box. 
Another way to keep your yard tidy is to provide ample, accessible
toy storage
in the kids' corner of the garage.
Consider what you would put in a conventional room. For little ones, provide protection from the sun with a "ceiling" (umbrella or awning), a "floor" (a quilt, splat-mat, or old blanket), and "walls" (some sort of barrier such as container plants, toy chests, or fences) that will keep them from wandering off. (Or at least slow them down.)

The older kids might want more privacy, but keep the little ones in view. If you have a yard and small kids, you're probably running out of room.
Outdoor toys, for some reason, tend to be big - very big. It takes only a few gifts from the grandparents to seriously junk up the yard. 
Let's see; there's the swing set, the plastic playhouse, the sandbox, the wading pool, and the bikes and trikes. Just moving the stuff to mow the lawn can take an hour. 
Unless you're running a daycare, set some limits on how much plastic you want in your yard.

You wouldn't fill up your lawn with junked cars, why is a trashy swing set any different? Try setting some boundaries; give the kids one area of the patio and yard as their play area. Confine toys to that space.
Help the kids keep their area tidy by limiting the number of toys that can be out at any given time, just as you do indoors. Just because kids have more room outside doesn't mean they can play with 10 toys at a time.
And the sheer quantity of toys strewn about also reduces the odds they will actually pick them all up at the end of the day.