preventative maintenance 



Tasks to tackle throughout the year to Keep
Your Home Running Smoothly
A house may last for generations, but its parts and systems won't last a lifetime without regular attention.
A roof can spring a leak, for instance, or a furnace can fail on a frigid winter night. 
Prevent problems in the first place by creating an annual preventative maintenance plan and sticking to it. Regularly checking your home's major systems lets you head off emerging crises.
Some problems you can handle yourself, depending on how handy you are, others call for a professional. In either case, if you're a homeowner, being aware of what requires regular maintenance - be it annually or on an as-needed basis - is key to keeping your home running smoothly.
The simple preventative maintenance tasks below take just a short time to perform and can help prevent hazardous conditions and expensive repairs down the road. 
Tackle these tasks throughout the year to keep your home running smoothly. If you pencil them in on your calendar at the beginning of each year, you'll be more likely to remember to take care of them. 
Yearly Preventative Maintenance Tasks
Take advantage of sunny days to inspect your home's exterior. Yearly home maintenance tasks include: 

Inspect and clean roof, downspouts, and gutters annually.
Inspect and clean roof, downspouts and gutters, and repair if needed. 
Have your chimney inspected; clean if needed. 
Have heating and cooling systems professionally serviced to keep them in tip-top working condition. 
Inside your home, check the seal around your windows and doors, and replace weather stripping as needed.
This simple fix can make to your more  home energy efficient. 
This is also the time to check your home's flooring for wear, and plan to refinish, repair, or replace, as needed. 

Seasonal Home Maintenance
Seasonal home maintenance tasks to include:
Check your home's masonry and stucco for surface cracks;  seal and repair if needed. 
Clean or change furnace filters (do this monthly, however, if you have pets.) 
Check the areas around your washing machine and dishwasher for leaks, and seal or repair as needed.
Semi-Annual Tasks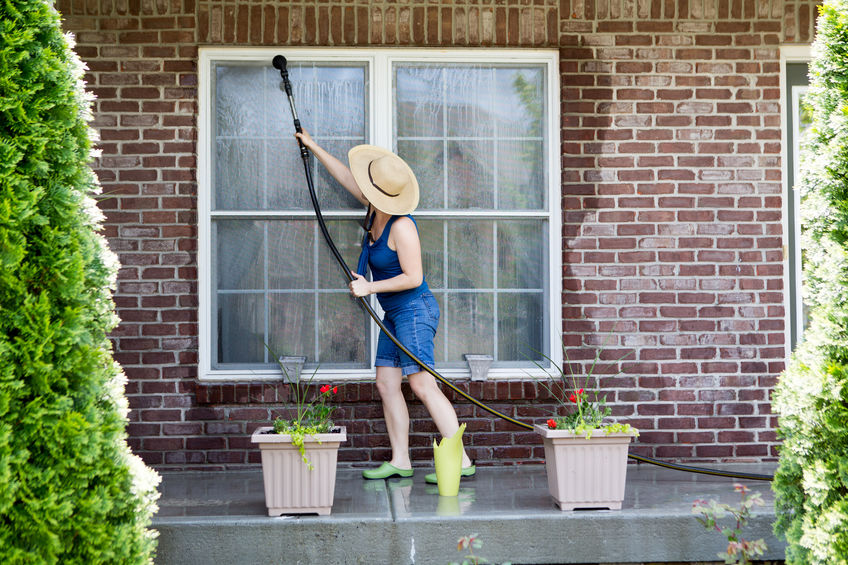 Scrub away any mold or mildew on your home's exterior semi-annually.
Twice yearly tasks to tackle around your home:

Scrub away any mold or mildew on your home's exterior with a bleach and water solution.
Check for leaks in the attic, basement, and garage. Repair yourself or bring in a professional if needed.
Monthly Tasks
Here are the essential preventative maintenance tasks to perform each month:
Clear your front walkway of surface debris, algae, snow, and other pedestrian hazards. 
Test the batteries

in your smoke and carbon monoxide detectors.



Monthly Maintenance and Cleaning Checklists To Help Get It All Done 
Some tasks only need to be done once or twice a year. The problem is that we forget to do them once or twice a year.
Or else, we tend to save it all for spring cleaning, which makes spring cleaning such a daunting chore that it doesn't occur, either
I've found the best plan is to break annual and seasonal tasks down by month and tackle them on a daily or weekly basis. 
Nothing gets too backed up, and things eventually get done. I've also found that concentrating on one room or area each month is more rewarding because you can see the results.
Here's the month-by-month home maintenance and cleaning schedule that works best for me that you can try yourself, to help ensure it all gets done this year.