Custom Search
Easy Home Cleaning, Organizing and Decorating
https://click.discountclick.com/go/click.php?tid=940833
There's nothing complicated about home cleaning or creating a well-run home - even when time is short. As a mom of three, I've discovered there are simple chores and cleaning routines that can be put into play that result in a company-ready, streamlined home. You really don't have to choose between having an efficient household and a life.

There are some home cleaning chores you can safely skip now and then, and others which are absolute musts for a safe home.

The successful strategies can help you get the most out of your day, too.
From easy ways to get your kids to help you do the chores - or even do them all by themselves - to involving the whole family, keeping chores reasonable, to organizing your home, you'll find easy answers here to family's life's most common challenges.
Namely, getting it all done right - and fast - in a day or a week's work.
I'll take you room by room, showing how to create kid-friendly storage, make sure things get picked up, avoid fights and confusion, and see to it that everything gets done - including the dishes.
My tried-and-true tips on how to organize your home and your family's schedule can help, too.

These strategies and tips are time-tested: I've gleaned them from sources ranging from friend, my San Francisco Chronicle cleaning column "Coming Clean", from visitor tips shared on this website, and the best source of all - from living with my own trio of angels, who often scratch their halos as well as their knees.
It's all here for you to pick and choose from. I hope the time you spend here will reward you with the basics you need to make your house a peaceful, well-kept home where everyone pitches in joyfully.


Author of "Mrs. Clean Jeans' Housekeeping With Kids" and "Simplify Your Household".
About the Author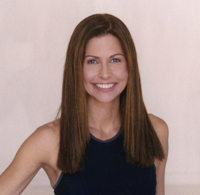 Tara Aronson is a native Californian. Having grown up in San Diego, she studied journalism and Spanish to pursue a career in newspaper writing. Tara, whose three children - Chris, Lyndsay, and Payne - are the light of her life, now lives and writes in Los Angeles. She also regularly appears on television news programs throughout the U.S.
Ms. Clean Jeans' Clean-Organized Family Home Blog keeps you up-to-date with all the additions and changes to the MCJ Clean-Organized-Family-Home.com Web site. Subscribe here.
Bathroom organization and cleaning tips for your home's busiest room. You'll need both simple organizing systems and family cleaning routines so everyone in the home can be part of the solution.
Easy Car Organizing for Families. The key is to create a home for everrything you'll potentially need on the road. Here are the essentials.
Garage Organizing Tips. By its very nature, this room is a no man's land. Here's how to organize it.
Go Green, Clean and Save! Earth-friendly, budget friendly cleaning tips. Whether you're looking to save the environment or just some cash these eco-friendly tips can help
Coming Clean: A housekeeping guide for every item and surface in your home, with easy solutions from author and lifestyle expert Tara Aronson.
Easy Home Decorating Tips. Nesting is rarely as easy as professional designers make it look. But you can put the pros' winning design strategies to work without enrolling in design school.
The kitchen is the heart of the home. All too often, however, its arteries get clogged with kid stuff and parent stuff. Here you'll find the tips and strategies get clean and organized.
Got kids? You've got laundry. Piles and piles of it. Make sure you have the wash day essentials ready so you can handle whatever curve ball wash day sends your way.
Home Maintenance & Repair. Prevention, in the form of maintenance tackled throughout the year, is the best way to keep common problems at bay.
Organize Your Home. We're keeping more inside our homes them than ever before. And even if we could snap our fingers and make another closet or room appear, more space isn't the answer. (Really.)
Kids love a pet. You don't have to be Dr. Doolittle to realize animals offer many benefits for kids. Before you bring an animal home, make sure you've considered the pros and cons.
Ensuring our family is safe requires precautions: a first-aid kit and disaster-survival kit, smoke detectors...
The Shop features individual stores with my favorite products and ideas for keeping every room in your family home clean and organized.
Taming the Family Zoo E-book. Got kids? Do they want a pet? Of course they do. They're kids. Here's what you need to know before you say yes to a pet - and after.
Backyard Family Gardening tips. Need a few ideas for kids gardening projects? Here's how to get kids gardening safely.
Family life presents challenges to scheduling, cleaning, and even peaceful co-existence. Just because you have kids doesn't mean you have live in a free-for-all home until the kids are off to college.